Right for you if you want: 
You are looking for personal investment products
Precious metals are a great option to consider whether you are looking for personal investment products or the perfect keepsake. We offer you a variety of options, including:

Royal Canadian Mint gold and silver maple leaf coins
Scotiabank branded gold and silver round bars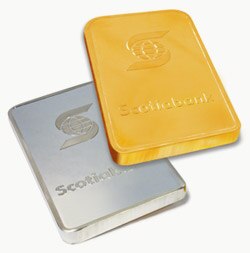 Purchase gold, silver or platinum through the Scotiabank certificate program. Certificates are backed by assets of the bank, not actual metal. You can always exchange the certificate for actual bars and coins of select products, or cash at your leisure.

Gold certificate - 10oz
Silver certificate - 500oz
Platinum certificate - 10oz
Large physical bars can be purchased and stored in a Scotiabank vault. These bars are segregated and allocated to the Scotiabank BVI omnibus account, which are registered to a specific individual or business entity. 

Bars Available for Storage

Gold bars: Kilo bar, 100oz bar, 400oz bar
Silver bars:1,000oz bar
Platinum bars:100oz bar
Scotiabank's precious and base metals division, ScotiaMocatta™, is one of the world's largest dealers in precious metals. The Mocatta® name has been synonymous with bullion for over three centuries. As one of the world's top bullion dealers, ScotiaMocatta is a global full-service organization that provides hedging, financing, and physical products and services.