Scotiabank Renews Sponsorship of Taste of Cayman 2014
Scotiabank Renews Sponsorship of Taste of Cayman 2014- Return as Sponsor of Seating Lounge for Patrons

Scotiabank has renewed its partnership with the Cayman Islands Tourism Association (CITA) to return as a proud sponsor of the upcoming 26th anniversary of the Taste of Cayman Food and Wine Festival. The event which is scheduled for February 8, 2014 at Camana Bay, promises to be bigger and better with an increased number of exhibitors, cooking demonstrations by Caymanian chefs featuring traditional recipes as well as live cultural performances. This year, there will also be a fun photo booth and several lounges to give patrons an uber stylish and tasteful experience.
Scotiabank's sponsorship will support the Tourist Association in providing patrons with a beautifully styled guest seating lounge, branded as the Scotiabank Lounge. Patrons will be able to sit comfortably while they enjoy their gourmet meals in an engaging and luxurious environment.
Speaking about the Bank's rationale for sponsoring the event for the second year, Simone Hull Lloyd, Marketing Manager of Scotiabank and Trust Cayman, said that "We are pleased to be return as a sponsor of the Taste of Cayman Food & Wine Festival 2014. Last year was our first year of direct association and we were very happy with the level of execution and the opportunities that it provided to connect with our clients. We are proud to be onboard again this year with this A-rated culinary escape which features so many top shelf restaurateurs. This event is well anticipated locally and is the ideal opportunity for us to demonstrate our support to local culture and lifestyle.
Jane Van de Bol, executive director of CITA said that the Scotiabank Lounge which was introduced for the first time last year raised the standard of the event and introduced a new dimension which was much appreciated by our attendees. "Moving the event back to the field this year gave us the opportunity to offer attendees the ideal space to relax and enjoy their treats while moving throughout the venue. The concept of the Seating lounge throughout the event is a feature we have included again for 2014. We thank Scotiabank for returning as a sponsor and look forward to partnering with them for the upcoming event in February. It means a lot for our association to have the active support of corporate entities as we promote local businesses through our fundraising event to residents and tourists."
Scotiabank will be showcasing its online and mobile banking services at the event – giving guests an opportunity to do a learn more about this platform and win prizes. Patrons will be able to learn more from promotional activities which will give them a better understanding of how to best use these non-branch channels to best suit their convenience. "In today's environment, everyone wants to Bank on the Go and we realize that it's all about providing 'on demand lifestyle and convenience banking' for customers. Our online channels offers the same security, ease and accuracy of in branch banking and we will be finding exciting and engaging ways for clients to learn about these channels  while they win special prizes available on the evening", explained Mrs. Hull Lloyd.
Scotiabank's sponsorship of the Taste of Cayman is part of its regional strategy to support local lifestyle and culture events. The Bank has recently sponsored the just concluded BVI Wine and Food Festival and the Turks and Caicos Caribbean Wine and Food Festival.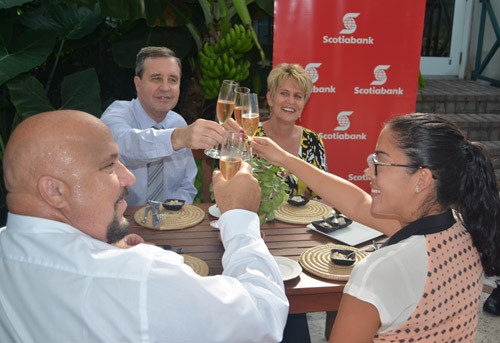 Scotiabankers Doyney Scott, and Jean Maucieri (left and right) proudly hand over the Bank's sponsorship cheque for the 2014 Taste of Cayman to Jane Van de Bol, executive director of the Cayman Islands Tourist Association, CITA at the Brassiere Restaurant recently. The Banks has signed on to support the culinary event which will be held on February 8 at Camana Bay. Scotiabank will be sponsoring the Taste Lounge which hosts guests as they enjoy their meals from the various stations throughout the venue.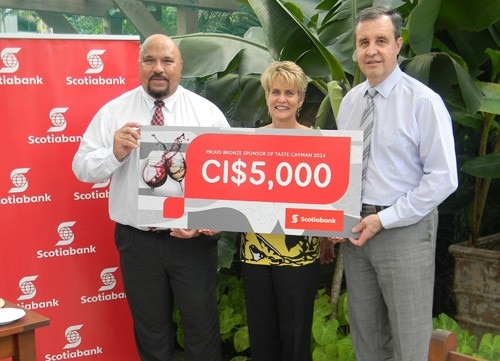 (Front) Scotiabanker Doyney Scott and Karen Ebanks of CITA join Jean Maucieri (rear) also from Scotiabank and Jane Van de Bol of CITA as they all raised their glasses to the 2014 Taste of Cayman. The team was invited for a menu tasting by the Brassiere team at the restaurant where the chef gave a sneak peak of their menu to be unveiled at the culinary event to be held at the festival greens of Camana Bay on February 8.

For more information, contact:

Simone Hull
Marketing Manager 
Scotiabank and Trust  Cayman 
Mobile: 1876. 322. 3233
Office: 1876. 932. 0549
Email: simone.hull@scotiabank.com