Scotiabank / AAdvantage MasterCard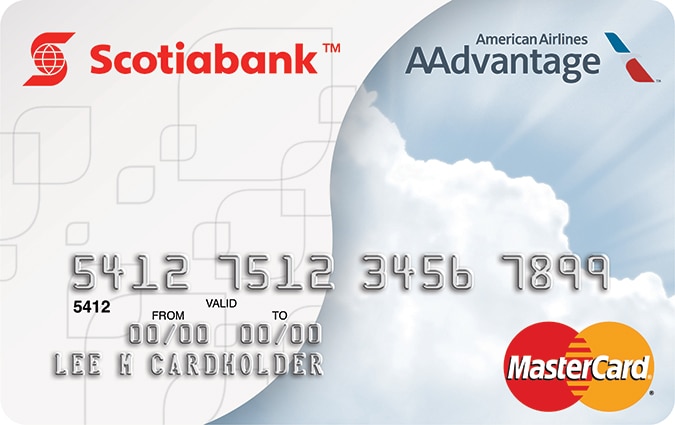 Limited Time Offer
Fly to the USA or Canada round-trip with fewer miles. 
Right for you if:

You fly frequently

Your card comes with benefits

American Airlines' AAdvantage® programme members earn AAdvantage Miles on every purchase they make with their AAdvantage MasterCard®
New in 2022!
Purchases with your Scotiabank/AAdvantage®  cards also earn Loyalty Points
so you can reach status in the AAdvantage program faster. 
Learn more
Other benefits1 include:
AAdvantage Miles with every purchase made on your card (additional cards (additional cards available for family members at no extra charge)

3,000 AAdvantage Bonus Miles with their first purchase on the card

Up to US$100 for Purchase Protection per occurrence provides reimbursement for theft and /or accidental damage of purchase of the covered item

Redeeming Miles for flights to almost 950 destinations worldwide, as well as other rewards, including flight upgrades, vacation packages, car rentals, hotel stays, and other retail products
Convenience Cheques to make purchases, pay utility bills, or get cash at a teller window, just like personal cheques

Optional, low-cost Credit Protection available

Important changes to your Scotiabank credit card account
Effective immediately, you will earn a maximum of 200,000 AAdvantage miles 
for purchases made on your AAdvantage MasterCard credit card in a calendar year.
Need more information?
Read our AAdvantage MasterCard FAQ.
Visit AAdvantage for more information on American Airlines and the AAdvantage programme.
American Airlines, AAdvantage and the Flight Symbol are marks of American Airlines, Inc. American Airlines may change the AAdvantage program at any time without notice and end it with six months' notice. American is not responsible for products or services offered by other participating companies. For complete details about the AAdvantage program, visit aa.com/aadvantage.
Earn AAdvantage Miles with every 

purchase

Up to US$100 per occurrence 

Purchase Protection

Find the card that's right for you.

Additional Cards
You can order additional cards at any time.

Read More
Say yes to more places.
Apply today and get a bonus of up to 7,000 AAdvantage® Miles*

Earn American Airlines AAdvantage® Miles on every purchase with your Scotiabank / AAdvantage MasterCard®.
Redeem them for flights, hotels, cruises, and more.

*
Terms, conditions and exclusions apply. * Benefits offered by MasterCard®, for details please contact MasterCard LAC Services Help Desk 24 hours a day, 365 days a year at 1-904-636-2576 (or lac_services_helpdesk@mastercard.com)

®
American Airlines, AAdvantage, and Million Miler are trademarks of American Airlines, Inc.

®
MasterCard is a registered trademark of MasterCard International Inc. 

American Airlines reserves the right to change the AAdvantage programme and its terms and conditions at any time without notice, and to end the AAdvantage programme with six months notice. Any such changes may affect your ability to use the awards or mileage credits that you have accumulated. Unless specified, AAdvantage Miles earned through this promotion/offer do not count toward elite-status qualification or Million MilerSM status. American Airlines is not responsible for products or services offered by other participating companies. For complete details about the AAdvantage programme, visit www.aa.com/aadvantage.